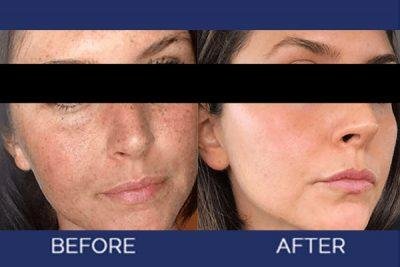 Melasma is a common skin problem. The condition causes dark, discolored patches on your skin. It commonly occurs on darker skin types. Melasma can be caused by sun exposure, pregnancy, hormonal treatments, certain medications or an underactive thyroid gland.
Stubborn pigmentation or Melasma can be treated with Tranexamic Acid. It is a medicine that is highly effective to control the problem. It is a safe treatment that can give you fresh and clean skin.
Frequently Asked Questions
Ahmed Raza
Dr Fehmida is the best dermatologist in Karachi my experience. Her product is awesome and the results are always fabulous. I always recommend in my circle to consult her for skin issues.
Ahmed Raza
Customer
Ameer Hamza
My wife got a hydra facial from fehmida and results have even shocked me as well. Her skin is glowunga ND smooth as never before. I would suggest you guys to consider fehmida's hidra facial to get glowing and spotless skin.
Ameer Hamza
Customer
Aamir Siddiqui
I will recommend them due to their qualified staff and hygiene. After wasting too much money on shampoos and hair oils, I found fehmida's clinic in Karachi for hair treatment; At first, I was confused about consulting her, but during my treatment, I realized that my hair fall was reducing day by day.
Aamir Siddiqui
Customer
David jones
Skincare had never been easier until I visited the clinic. Super friendly staff and worth the money. Dr. Fehmida Arif is very knowledgeable and helped a lot with all my skin issues. Highly recommended.
David jones
Customer
Najma Sewani
It was a pleasure meeting Dr. Fehmida. She was really great at helping us out because my husband was facing some severe skin issues, and my back was full of sunburn and acne scars. The procedures she used were so beneficial that I am already seeing results!
Najma Sewani
Customer
Rida Batool
Extremely professional and efficient! Got my laser done and I couldn't be more pleased. I had a bad experience from a previous dermatologist's clinic, Dr Fehmida and her Assistants made everything extremely easy going for me!!
Rida Batool
Customer
Shehnaz Saleem
I have been a regular client of Dr fehmida Arif , very good treatments offered with no down time . I get my regular skin maintenance from her . She is present to see the mode of treatments given at her clinic.
removal or
Shehnaz Saleem
Customer
anzala saleem
I have had the best experience at Dr Arif clinic. The cryotherapy was worth every penny and the IV's were amazing too. I got my hair exosomes and laser done and super excited about the results for those also. Prices are great, clinic is clean and staff is amazing and well knowledgeable. Thanks to the entire team.
anzala saleem
customer
Nimra Jibran
Loved the work. Dr. Fehmida was able to get my hair back & stop my receding hairline issue with Rigenera. The procedure itself was painless and nothing lengthy. My confidence has boosted a 100% after my hair came back!
Nimra Jibran
Customer
Adila Jamil
I have been visiting the doctor for many years, her skin rejuvenation treatments are worth spending on! Recently got thread-lift & WOW my relatives are in awe. Thank you Doctor!
Adila Jamil
Customer